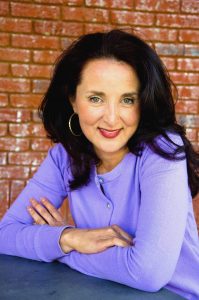 Maria Simeone
MusicMovestheBrain
PO Box 495
Trabuco Canyon, CA 92678
email: info@musicmovesthebrain.com
Tel. 949.874.7628
www.musicmovesthebrain.com
Maria is a Teaching Artist, Opera Singer, HealthRhythms® Facilitator, trained in facilitation of the Move to Learn™ program, and Creator of the Remo Affiliate Program Flexity Jig®.  She holds a B.A. with honors in Research Psychology and is published in the field of Cognition/Neurolinguistics, is a trained HealthRhythms facilitator, is the first US Certified Move to Learn Trainer (Sydney, AU), and is trained in Orff Schulwerk, Dalcroze, Brain-Compatible Dance Education and Rhythmic Movement.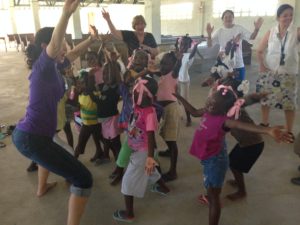 California-based, Maria provides her brain-compatible music/movement programs to all ages from infants to seniors. She specializes in working with high-risk/trauma populations by focusing on the use of neuro-reflex based creative dance, group singing, sound therapy, and drumming.
As an opera singer, she has performed as soloist in opera, oratorio, musical theatre, and in recital in both the USA and Europe.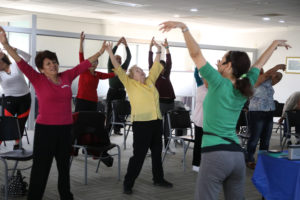 Maria is the creator of the Remo Affiliate Program, Flexity Jig – a neuro-reflex based voice-body movement game that boosts learning, focus and creativity. She also recently did a series of 3 interactive ("press and play") videos for Remo using vocal play and 3 movements from Flexity Jig (Breath, Core-Distal, Lateral Sides) with Remo's big therapy drum table.
There are free downloadable cue cards.
https://www.thecomfortsound.com/flexity-jig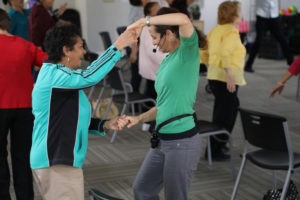 BrainDance Videos
These are interactive movement videos for seniors featuring Anne Greene Gilbert's 8 pattern BrainDance with Teaching Artist, Maria Simeone. Easily adaptable for all ages and for classroom use. Produced in sponsorship with Segerstrom Center for the Arts and Alzheimer's OC. Closed captioned in Spanish with PDFs in English and Spanish of all 8 BrainDance patterns.