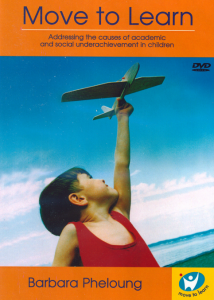 This DVD is designed train a parent, teacher or helper to run the Move to Learn program with a class or an individual child. Each of the Movement Sequences is clearly demonstrated in an easy-to-follow-along-with manner and all important information is included.
The DVD runs for approximately 50 minutes and includes information about learning difficulties as well as interviews with a doctor, occupational therapist, osteopath and behavioural optometrist.
Description
An ideal teaching resource for parents and teachers in their quest to prepare children for academic learning and living. Barbara will show practically how to:Identify:
children who should be achieving more.
Integrate movement programs into a school environment.
Run a simple movement exercise program at home or in the classroom which will dramatically improve a child's ability to learn.
Show the root causes of underachievement.
Identify appropriate professionals for further treatment or support.
Read this detailed review of the Move to Learn DVD in The New Zealand Journal of Natural Medicine.
This movie is available in DVD (multi-region), or it can be downloaded directly to your computer. (requires Chrome to download and VLC to play).
PRICE: AUD $20.00  plus postage – (if you choose the DVD rather than the downloadable version) 
Payment can be made via PayPal or by direct deposit.
To purchase either of these versions, please click here