Ten Gems for the Brain – The Move to Learn Movement Sequences (5th Edition 2018)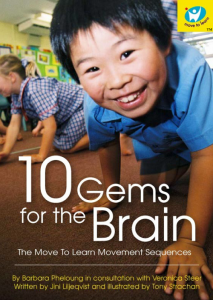 By Barbara Pheloung
AUD $20.00
Payment can be made via PayPal or by direct deposit
This short e-booklet explains how to do the movement sequences in simple clear language with lots of pictures. It contains all the information you need to run the program in your own home or school.
It makes an excellent handout at seminars and is a good reference for parents or clients!
Teachers say:
"Many thanks for the updated version. It truly is a gem. My students love the exercises, and so do I!!"
"I can truly say that 'Move to Learn' has had a profound influence on my teaching pedagogy. It has guided me in developing a very deep understanding of the early years development and the many things that can affect a child's ability to meet their full potential. It has provided me with possible answers and practical ideas to assist students and support their parents to support their child.
I can't imagine what my teaching would been like without this amazing movement!"
"A special day indeed when the O. T. Assoc' introduced me to Barb Pheloung. A treasured friendship and work at the Beach House. There will always be children needing this unique multisensory therapy. It Must continue with a caring sensitive approach so it's up to you all to keep the ball and the bodies rolling."
*Please note that it's not ok to make extra copies without a license.
For further details, contact us directly. Discounts are available for those who would like to distribute our products or would like to buy multiple orders for their school or business.
Thank you!
This e-book can be purchased here: info@movetolearn.com.au